Disability Confident Employer

We're rated excellent by our customers on

Disability Confident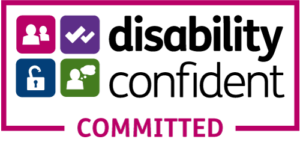 As part of our commitment to becoming a responsible business, we're accelerating our plans to make our careers more inclusive and accessible to people with disabilities and long-term health conditions.
The Disability Confident campaign works with employers to remove barriers, increase understanding and ensure that disabled people have the opportunities to fulfil their potential.  We are proud to be part of this campaign and join companies like  Coca-Cola, John Lewis, Barclays, Channel 4, and many other companies that strive to support the disabled community.
The Disability Confident Scheme is a government initiative that encourages employers to increase the number of disabled people they hire into their organisation. The scheme is voluntary and contains 3 'levels' participating organisations can achieve:
Level 1: Disability Confident Confirmed
Level 2: Disability Confident Employer
Level 3: Disability Confident Leader
The scheme is designed to make sure disabled people don't experience disadvantages in the recruitment process. Organisations are encouraged to challenge common misconceptions about disability and remove barriers and obstacles that could prevent disabled people from achieving their career ambitions.
Currently, Stormspell is at Level 1: Disability Confident Confirmed. In practice, this means we will:
Always offer an interview to disabled candidates if they meet the minimum criteria for a job
Make reasonable adjustments throughout the hiring process to ensure that disabled candidates are not disadvantaged
Provide an inclusive, fair, and accessible hiring process for all disabled applicants
Support disabled colleagues by making reasonable adjustments where necessary to enable them to do their jobs to the best of their ability
Why are we making this commitment?
June 2023 we gained Disability Confident Level 1 and will continue to progress to Level 3 in the next year.  In the UK alone, over 7 million people (17.5%)  are working-age adults with a disability or long-term health problem.
We want to
Challenge attitudes towards disability
Increase understanding of disability
Remove barriers to disabled people and those with long-term health conditions in employment
Ensure that disabled people have the opportunity to fulfil their potential and realise their aspirations
Have a look at our Vacancies page to see what we currently have on offer.