Brett Martin provides the most comprehensive guttering range with a variety of hoppers, downpipes and accessories in a range of different colours and profiles. Both standard PVC plastic and cast-iron effect guttering options are suitable for both new build as well as repair & maintenance markets.
Brett Martin guttering systems are used for residential housing, industrial guttering, gutters for sheds and any commercial building that require rainwater drainage. Simple to install, the Brett Martin guttering is light weight in comparison to aluminium and traditional cast iron gutter systems.
You can find your local Brett Martin guttering supplier with our stockist finder tool. You can also look up our product search tool to find parts for replacement or integration with a range of other manufacturer's guttering systems.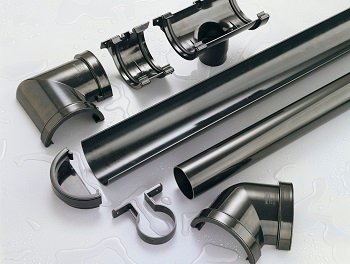 Gloss Finish Rainwater System
A Rainwater range featuring a choice of quality PVCu systems in a gloss finish which includes four domestic gutter profiles – Roundstyle, Squarestyle, Prostyle, Deepstyle and the high capacity Deepstyle 170 which is suitable for larger commercial and industrial buildings. With up to seven colour options to choose from there's an option available for every building application, whether new build or refurbishment.